Some buzzwords of the contemporary era are New Normal, Work from Home, Online Pharmacy, and Online Shopping. But when it comes to electric vehicles – can they become the new normal? This is a hot topic among people and everyone is skeptical about what will happen to this industry.
The electric vehicle industry is still on a major upward trajectory, all thanks to recent developments. The world's leading electric vehicle manufacturer, Tesla is all set to launch its electric cars in India this year. Elon Musk Teslas were once considered a joke when he started designing cars and now, they are a common sight on roads across the world.
The Future Is Electric
The pandemic has not impacted the electric vehicle story adversely. In fact, it may have accelerated the shift. The pandemic may have come as a rude shock for doubting Thomases who believed that the future of mobility is something else. While sales of conventional passenger vehicles and two-wheelers in the country declined over 9 percent and 13 percent, respectively, in FY21, electric two- and four-wheelers bucked the trend and posted impressive growth.
Sales of electric two-wheelers surged over 64 percent, while four-wheelers grew over 68 percent. In a year where nearly two months were lost due to lockdown, it is the clearest indication yet that after sputtering for years, the electric mobility story is on track towards an inflection point when it becomes mainstream.
One-stop Solution
EVs are touted as a one-stop solution to many problems in India. These include those related to air pollution and steep oil import bill that depletes our foreign exchange reserves. India consumes 29.4 percent of the world's oil and crude oil accounts for more than a quarter of its imports. According to a report by Niti Aayog and Rocky Mountain Institute, a reduction of 156 million tons of oil equivalent worth Rs 3.9 lakh crore is possible by 2030 if EVs account for 40 percent of two-wheelers, cars, and SUVs and 100 percent of commercial vehicles and three-wheelers.
India is also the world's third-largest emitter of carbon dioxide (CO2) at two million kilotons behind the US and China. In the national capital of Delhi, pollution due to particulate matter regularly exceeds the World Health Organization's limits by a factor of 7-12. More EVs means fewer carbon emissions.
"It's a no-brainer that EVs are the future. I think that is well-established now," says Chetan Maini, Co-Founder, and Vice-Chairman, of Sun Mobility who built India's first electric car, Reva, back in the 1990s. At Sun Mobility, Maini is working to establish a network of battery swapping infrastructure across the country. "An EV is even more suitable in high congestion cities and stop-go traffic conditions like we have in India," he says.
From electric vehicles to solar power- the future of energy is renewable. This makes it one of the most rewarding fields for students to enter. The electric vehicle field is ever-evolving and provides intellectual stimulation. The industry has a huge demand for new knowledge and innovative skills.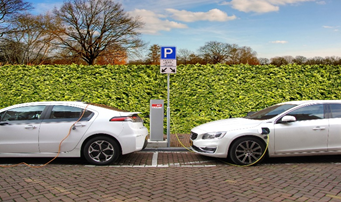 Areas of opportunities for Electrical Engineers are listed below:
Research and Development
The upcoming technologies like the Internet of Things, Artificial intelligence, and advancements in manufacturing techniques, there are a lot of opportunities for electrical engineers to explore career options in the research and development of Electric Vehicles. Electric Vehicles are mainly facing issues with the battery charging time, battery size, performance, and life of the batteries. variable torque requirements and battery performance improvements are the key area of research for Electrical Engineers
Designing
Electrical Engineers can enhance the present design of the vehicles by employing improvements in the motor, braking system, electronic gadgets,  and electric lighting of Electric Vehicles. The opportunities to develop the systems with better design from point of view of economic and environmental aspects can be considered as a viewpoint for design engineers.
Manufacturing
The manufacturing units for electric vehicles have the requirement of a skilled workforce. The skills associated with motor design, battery design optimization, manufacturing process design, and operations.
Maintenance  
The maintenance of Electric vehicles requires Electrical and electronics maintenance. Development of Electrical maintenance workshops will be the need of time in upcoming years. The maintenance of Electric Vehicles will mainly be going to involve the maintenance of the motor, batteries, and electronics accessories.
Electric has proposed to install charging stations at different locations throughout India. Electrical Engineers will get the opportunity to work in these charging stations in the upcoming time. The number of Electric Vehicles is going to increase in the country, and charging stations will be the next alternative to petrol and diesel pumps.
" Join the future of sustainable transportation and be a part of the engine that powers the world !!  "