Aaah! Another workshop. That's our reaction most of the times. But this time it's going to be a different journey altogether. Well, how many times do we actually involve ourselves completely when we attend workshops or seminars, the answer is pretty evident, VERY RARELY. Being a student, I know how lethargic a workshop can get, but that's not the case with SPEED.
SPEED – Student platform for engineering education and development is one such organisation which instils and beckons students in a path to extrinsic proficiency which I reckon, we cannot acquire through a regular academic curriculum. SPEED has conducted a three day workshop in BVRIT campus, Narasapur from 21st -23rd July 2015.
We all have come across this saying, which goes on like this "All work and no play makes Jack a dull boy", we have entrenched ourselves with this quote our entire lives. Academics can make us feel that we have a monotonous and a lousy year ahead. Thus, SPEED made sure we do not think like that. The workshop conducted by SPEED helped in improving the confidence levels, provided a total revamped environment to an introvert personality and also helped developing a person an as individual.
There was an ice breaking session on the first day which helped the participants to interact with each other. This was also a platform for socialising. Here, all the students were called out to an open lawn and divided into teams of 12 based on their birthday months, where they had to interact with their group members and know each other's common likes and dislikes and later on, one of them comes out and tells about their team mates. The group belonging to October seemed witty enough when their member Bhargav , a third year Mechanical student went on say, they all are fans of BalaKrishna , they were all toppers , they were all very punctual and ends saying that they are all big fat liars. That definitely brought chuckles among everyone there.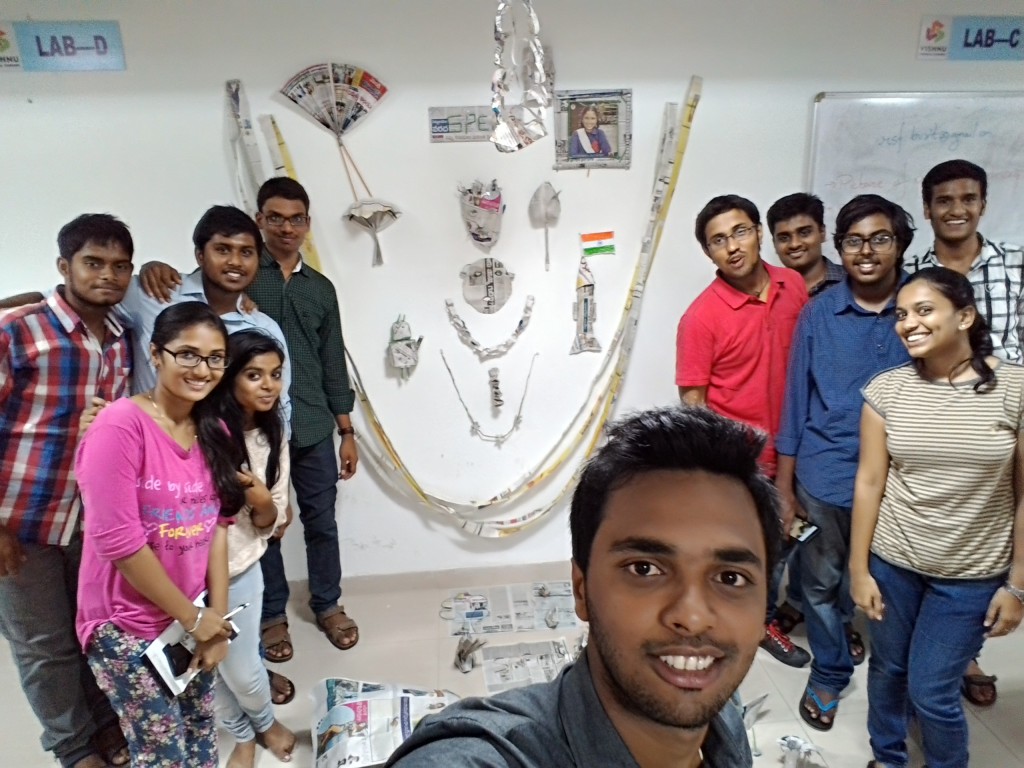 Basically SPEED focuses on the tasks which involve creativity and coming with ideas and solutions for problems that do not exist in particular fields. The main objective was "ENGINEEERING WITHOUT BORDERS". The tasks were given to the students based on their interests, hence giving them an opportunity to explore their potential in their interested fields.
To persuade the students and to whip them up, there were many activities conducted, one of them being a game where they were divided into teams of two and had to stand opposite to each other, one was given a pencil and paper and was supposed to draw without seeing what the other describes with his hands tied. I and my friend Navya, a third year IT student were paired where I was had to draw a tweety, but my drawing was so pathetic and funny, that all she could say was "wish I was paired with someone else" and then they showed it to everyone in the room and which got response with smirks and giggles, all this being in good humour though.
By the end of the workshop, the students participated with a lot of zeal and enthusiasm came up with brilliant action plans and extraordinary solutions. This workshop also nourished them with a sense of scheduling where they had to set their priorities and manage time prudently. They got to learn a sense of responsibility and other leadership skills. There were activities conducted where the team coordination was very important and expressiveness played a major role as they had to convey with each other for even the tiniest of things.
This was the first time, I had seen any room so colourful in college. We had to make posters, for which we given sketches, markers and crayons. It felt like we were back in school colouring and decorating the posters only this time it was all the more fun rather than cribbing like in school with the teachers behind our backs.
By the end of the third day, participants had realised "Participation is more important than winning", as out of 27 teams, three teams had won for their active participation and wonderful presentations. Nevertheless there were students who literally went on to say, that they were glad to go home with a bundle of memories and would relish the same. This workshop has not only brought the students of BVRIT together but also the participants from other colleges.
The last day was very depressing as the workshop came to an end and we would be no longer sitting in those labs, trying to pitch new ideas and waiting for breaks as we were given refreshments. All those newspaper crafts we had made were being sent away with the facilitators. The facilitators were very friendly, they were always at our beck and call and explained us our next task with utmost patience everytime.In the end, one could see the delight in everyone's gleaming faces and much more enhanced personalities, even though it was hard saying goodbye to all the new pals we made.